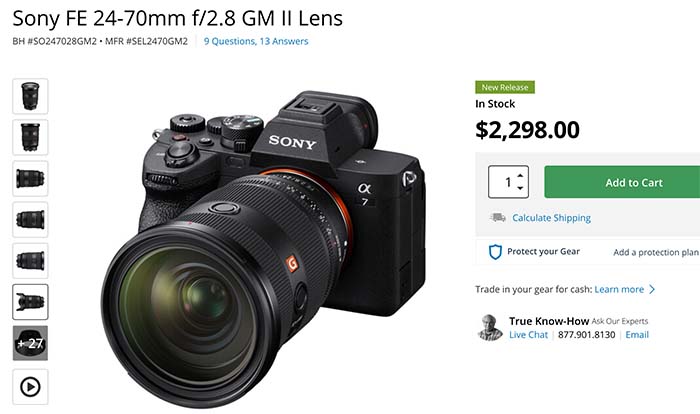 Opticallimits tested the lens and concluded:
The Sony FE 24-70mm f/2.8 GM II is a positive surprise in this lens class. To be honest – yours truly has never been a fan of "fast" standard zoom lenses. The truth is that they aren't fast by the prime lens standards in this range at all, the zoom range is rather limited and on top of that, the whole package had the size and weight of a brick. Plus the insane price tag. And several members of the species aren't even overly stellar in terms of optical performance. At least some of these counterarguments no longer apply to the new Sony lens. At less than 700g, it is in the same weight class as your average 24-105mm f/4. And the cream on the cappuccino is a great sharpness at most settings. The results are just great at 24mm and 40mm and still quite impressive at 70mm. The vignetting, distortion and CA figures are about typical for a lens in this class and usually nothing to worry about thanks to auto-correction anyway. The quality of the bokeh is pretty good for a standard zoom lens – especially when compared to its predecessor. In critical scenes, you may spot some LoCAs but it isn't overly pronounced at least. The weakest aspect of the Sony lens is flare which can get freaky in difficult scenes thus it's also a good idea to leave the lens hood attached during shooting.

While you might think that the build quality suffered due to the weight savings, we can't confirm this really. Despite using more plastics, the Sony FE 24-70mm f/2.8 GM II still feels like a professional-grade tool. It's far from the plasticky feel of your average Tamron lens for instance. Sony applied its usual set of additional GM-class goodness. The lens is sealed against dust and moisture – and the fluorine-coated front element should help in this respect as well. There are also two focus stop buttons and a dedicated aperture ring. The latter can also be set into clickless mode for movies. Additionally, you can control the friction of the zoom mechanism. The high friction mode should also prevent zoom creeping. Sony has been using XD linear motors for focusing for a while now but this time they incorporated no less than 4 of them. Despite the amount of glass to be shifted around, the AF speed is exceedingly fast and, of course, silent. In-lens image stabilization is not provided but then most modern Sony cameras can do this for you anyway.

Overall, the Sony FE 24-70mm f/2.8 GM II is an impressive piece of equipment and at least for the time being, it's back at the top of the food chain. Highly recommended!
USA: BHphoto. Adorama. Amazon. FocusCamera. Henrys CA.
EU: Fotokoch DE. Calumet DE. FotoErhardt DE. Wex UK.
Asia: CameraPro AUS.