Nothing introduced itself to the world last year with ear (1), the company's transparent wireless earbuds. Led by OnePlus founder Carl Pei, the company has announced it's planning to launch its second product in the summer: a smartphone.
Sticking true to its name, Nothing has remained rather tight-lipped about Nothing Phone 1, or 'phone (1)' as Nothing has styled it. Even at the company's event for the phone, it didn't divulge much about the upcoming smartphone.
Info is slowly trickling out, though. We now know where you'll be able to buy the handset, what software it will be running, and a few sneak peeks at the underlying hardware – plus an inevitable leak or two.
We've been all ears, so here's everything we know so far about phone (1).
So, what do we know about Nothing's phone (1)?
For starters, Nothing actually had to confirm its new product would be a phone. While that may seem obvious now, we weren't too sure what its next product would be prior to the official reveal. We suspected a smartphone from the more-than-likely staged photo of Pei holding a new smartphone, but it's now official.
phone (1) will be powered by Qualcomm's Snapdragon mobile platform, something both companies are quite proud of. We're not sure exactly which chip to expect in the upcoming smartphone, but the Snapdragon 8 Gen 1 is a likely candidate.
Some kind of announcement regarding the phone will be made this week, according to the official Nothing Twitter account – but there's no confirmation if this will the announcement of the phone, or the announcement of the announcement. Seeing how drip-fed the teaser campaign has been so far, we're betting on the latter.
Nothing is on a mission to create a connected ecosystem with its new products. In Pei's interview with us, he explained there's currently no good alternative ecosystem to Apple with the same connectivity. And he's right. With Nothing's releases, the company is planning to build an equally connected ecosystem that can rival the fruity tech giant. We'll have to see how that goes.
To power this ecosystem, Nothing is rolling out Nothing OS on phone (1), the company's own ecosystem. It's built on top of Android, like Samsung and Xiaomi's software, but will feature bespoke elements, fonts (with Nothing's dots), and so on. Pei mentions that'll learn and optimize from your behaviour as well, optimising RAM usage. phone (1) will receive 3 years of software updates on Nothing OS.
If you're keen to get a look a Nothing's software, the firm has released a preview of its launcher that can now be downloaded on Android 11 or later phones (it was originally restricted to Google Pixel 5 or Pixel 6, or Samsung Galaxy S21 or S22 but this restriction has now been lifted). The launcher is fairly bare-bones, with just a few widgets, wallpapers and icons, plus that familiar font.
But what about the body? There's actually not much we know about this. The cheeky staged photo we mentioned earlier shows a black smartphone device, that looks like any other smartphone. We're assuming it was an early version, as Pei hinted that the final design will look different.
If there's one thing Nothing's known for, it's bold design; and the brand will continue this with phone (1). Pei promises a device that's "stunning", so it's something to watch out for. The company founder tweeted that it's time to use transparent design again, implying that the upcoming smartphone will sport a similar see-through look.
More recently, a leak from twitter account TechDroider seemingly revealed that the phone (1) will arrive with a 6.55in OLED display, with flat edges, even bezels on all four sides and a top-centre hole punch camera. It will apparently have a 2400×1080 resolution, making it more of a mainstream flagship than a properly premium handset. The accompanying image is a concept render, rather than an image of the real thing, so it's unclear if the rounded device corners are what will appear on the final device.
Further to that, Nothing shared some images of the inside of the device. While these images are predominantly there for Nothing to talk about its design work, we do get an interesting look at one feature on the phone. We can see that phone (1) has a wireless charging coil, so the upcoming device will definitely have that feature.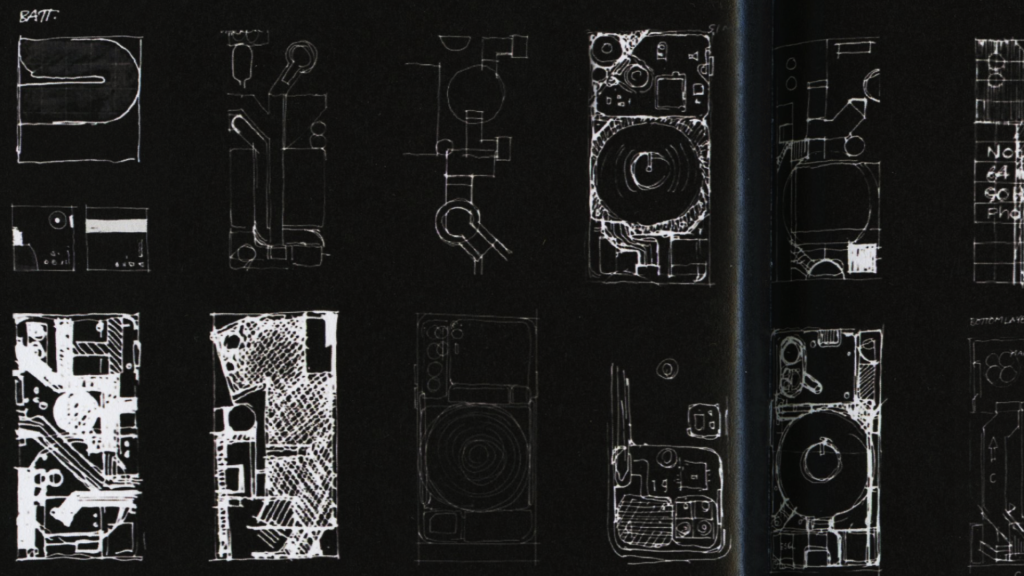 It is odd for a company to announce a new phone without showing off what it looks like. Whether that's because it's not yet finalised or just to build hype is unknown, but we're curious to see what it looks like. Nothing has ever done anything by the book, after all.
Nothing phone (1) expected price and release date
Ah yes, big question: price. Coming from OnePlus, we would expect Pei to deliver flagship specs in a mid-range priced smartphone. But, if Nothing is highlighting bold designs, this could add a small premium. A fair estimate would be around £700, between mid-range and flagship. ear (1) retails for £99, cheaper than other wireless earbuds. It's a good sign for a friendlier price tag on the upcoming smartphone.
What we do know for certain is where you'll be able to buy the phone (1) from. Nothing has signed up O2 as the exclusive UK network partner, with in-store and online sales set to begin later this summer. Expect a SIM-free option as well as a mix of contract offers. Elsewhere, Telekom Deutschland will be the only place to pick up the phone in Germany, and the Flipkart e-commerce marketplace will be selling the handset in India.
When we told you there wasn't much we know about phone (1), we weren't bluffing! Nothing is keeping its lips sealed for the time being. Expect more information before the summertime release, but otherwise it's a waiting game for now. And if you missed out on the company's first crowdfunding round, it's doing a second round from April 5.