Every year, Google hosts Google I/O, the company's conference for developers. Here, we usually get a first look at the next version of Android, and Google has been known to debut a product or two. Since invites went out back in March, Android fans have been getting excited to see what Google has in store.
This year, we're expecting Google to announce the Pixel Watch, showcase the new Android 13, and maybe even launch the Pixel 6a. Of course, Google likely still has one or two tricks up its sleeve, so be prepared for a few surprises.
As per tech event law, Google is offering a live stream for fans to watch the I/O keynote as it unfolds (you can find this below). But, if you can't tune in to the live stream, you can follow along with our live blog here. We'll keep you up to date with everything going on at the event!
The keynote is scheduled to start at 6pm GMT today (May 11), or 1pm EST/10am PST if you're in the US. Check back just before the event starts for our coverage.
Google I/O 2022 live coverage:
Focusing on making a difference through products. Sundar is taking a look at some of Google's efforts over the past year.
Mic check, 1, 2, 3. Did you hear the crowd cheer? "It's great to be back", Sundar says, and he couldn't be more right!
Hear, hear!
Does that retro Google logo make you feel old? Oh, how times have changed!
3:07, to be exact.
Major Jumanji vibes here.
Google gave us a quick teaser for the event, with a light-source Google I/O logo. You had to see it to, well, see it (and get the pun).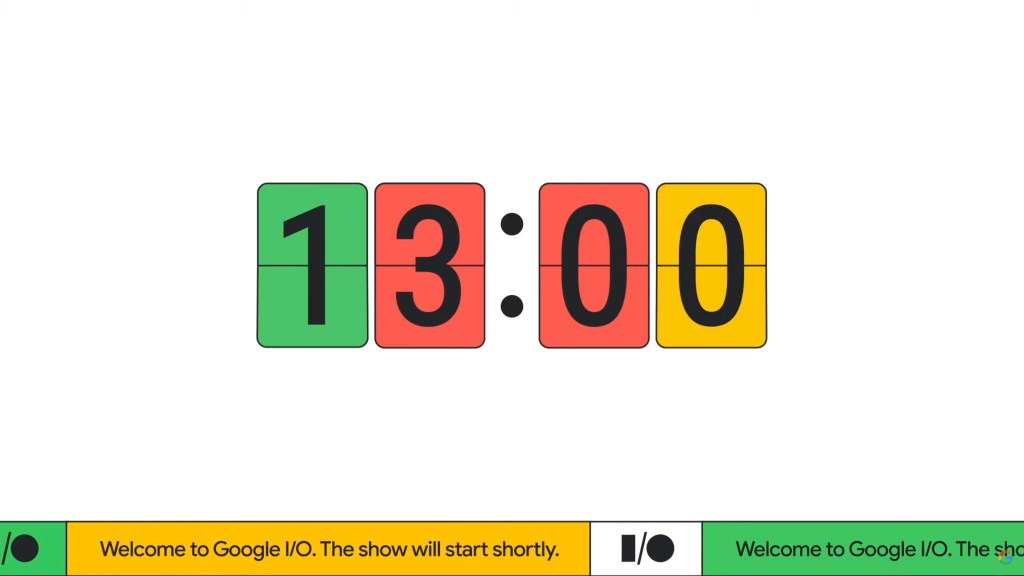 Consider the warm-up music Stuff approved! It's perfect entertainment for anyone watching the keynote, or there in the audience.
Oh no! Where'd it go?
While we couldn't be there in person, Google I/O 2022 is in-person. Look at that crowd in the audience!
While the event doesn't start for another 30 minutes, we're here, beginning our live coverage. There could be some pretty big announcements at the keynote, such as an unveiling of the long-rumoured Pixel Watch, and the launch of the Pixel 6a. We'll also be getting a look at new software; Android 13 is a sure thing, but expect some Wear OS and Chrome OS updates too!
In the meantime, if you're itching for some Googleyness in your news, check out what to expect from the keynote: